Birdlife in Isimangaliso
Posted on Wed November 23, 2016.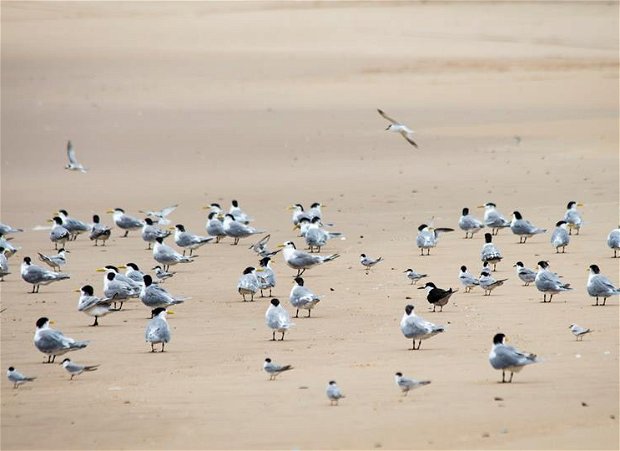 With an impressive existing list of 526 bird species throughout the World Heritage Site, the iSimangaliso Wetland Park is a mecca for birders. And no more so than in the past few days, with a few tremendously exciting sightings recorded by resident iSimangaliso birders and the flocking of numerous out-of-town twitchers to the Park.
iSimangaliso's rare birding delights
The Eurasian oystercatcher and sooty tern are both considered rare visitors to the Lake St Lucia Estuary area of iSimangaliso.
St Lucia Bird Club's chairperson Ingelore Taylor was one of the local bird enthusiasts who stirred up great excitement in birding circles when posting photos of a series of unusual bird sightings on Facebook sites ten days ago. The Eurasian oystercatcher and sooty tern, both regularly spotted on the St Lucia Estuary beaches during the past week, quickly drew a deeply committed following of avid birders to the iSimangaliso's shores. Visitors carrying tell-tale bulky binoculars and cameras have been seen on the dunes and estuary shoreline in the hope of catching a glimpse or even better, photographic evidence of the elusive birds.
iSimangaliso's Technical Manager Mike Bouwer, who undertakes daily beach inspections of current excavation works for the restoration of Lake St Lucia, Africa's largest estuarine system, has a few interesting tales to tell.
"I met one guy who had driven down from Johannesburg at 3:00am – against his wife's advice – to get a picture of the oystercatcher. On arrival he walked 2km along the beach toward Maphelane to get his sighting. He got it, and a lot of photos. Hats off for perseverance! Apparently he was also extremely relieved that he could prove to his wife that his impulsive search was not in vain."
Renowned birder Trevor Hardaker wrote on Tuesday morning on Facebook that "the St Lucia (Estuary) double act of Eurasian oystercatcher and sooty tern is proving rather popular amongst twitchers", adding that he had already received messages from three birders that morning, one of whom was on the road from the North-West Province.
 On the Western Shores, the black coucal and juvenile European honey buzzard also caused a twitter amongst twitchers.
Another section of the Park that is fertile for bird watchers, especially where raptors are concerned, is the lush Western Shores with its grasslands and wetlands in full verdant glory at present after excellent rain. Identification of the juvenile European honey buzzard there spurred Hardaker to add the photo to his South African rare bird forum. The black coucal, a scarce breeding migrant favouring dense tall rank grasses on vlei margins, has also been seen on the Western Shores in the past weeks.
"I've been fielding numerous calls ever since posting the shots," says Taylor, 'including an elderly lady from an upcountry bird club who booked a flight and hired a car to get here to seek the oystercatcher. On her arrival on Monday afternoon, I offered to take her to the Western Shores to look for the black coucal. To our absolute delight, we found it!"
It wasn't easy to get a photograph of the Pel's fishing owl, sitting high in a fever tree against the sun at uMkhuze's iNsumo Pan – but the sight caused a thrill regardless.
The Pel's fishing owl is a perennial favourite 'tick' for birders, and with an impressive specimen regularly frequenting the iNsumo Pan picnic area at the Park's uMkhuze section, a steady stream of bird-loving visitors has been seen heading off in the hope of catching a glimpse.
Rare vagrants
Two other interesting sightings in the past year that may not make the Park's official list, but certainly should be noted as unusual vagrants, are those of a King and African penguin respectively – both of which were discovered alive on iSimangaliso beaches. The King penguin – a native of the Antarctic regions – was found standing almost as tall as a human on a St Lucia beach. It was transported to uShaka Sea World for care but unfortunately perished a short while later. An African penguin that turned up at Cape Vidal beach a few months ago, also sent to uShaka, survived and was able to be successfully rehabilitated for eventual return to its natural habitat.