iSimangaliso Wetland Park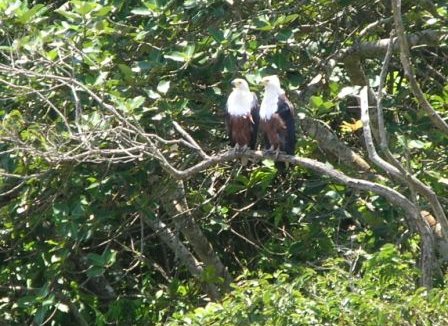 There are 911 UNESCO World Heritage Sites in the world. 704 of these are Cultural Sites, a further 144 are Natural Sites and 27 are Mixed World Heritage Sites. iSimangaliso Wetland Park surrounds the village of St Lucia and was chosen as South Africa's very first World Heritage site.
It is home to the greatest congregation of hippo and crocodiles in South Africa with more than a 1000 hippos and more than 2000 crocodiles. The hippos frequently visit the village of St Lucia and guests have often encountered them walking down the main road!
It is home to elephant, rhino, buffalo, leopard, various antelope and buck, hyena, monkey…..not to forget chameleon, dung beetle and all the little creatures that make the African bush such an unforgettable experience.  Leopards are frequently spotted in the village; the monkeys and mongoose have fixed addresses in the village and so do the red duiker and the bushbuck, not forgetting the hippos.  Our guests often have more en-suite than bargained for.
It is the last significant breeding ground for the giant leatherback and loggerhead turtles. From November each year about 500 loggerhead and 150 leatherback turtles come ashore to lay their eggs. These are marine animals and perhaps 15 to 20 years may have passed since the turtle last felt solid ground beneath her half-ton body.  By the time she makes her difficult way back to the ocean, 120 eggs will be nestled in the sand for two months to recommence this fragile and miraculous cycle.  This delicate prehistoric species will hatch in its hundreds but only 1 in 500 will make it to maturity.
The iSimangaliso Wetland Park has 8 inter-linking ecosystems and is considered the most definitive Eco-tourist experience.
The vegetated coastal dunes are estimated to be 25 000 years old and are the highest dune forests (exceeding 180 m in height) in the world.
There are 36 snake species, 80 dragonfly species, 526 bird species, 110 butterfly species; 114 species of fish….
June to November St Lucia is visited by thousands of Humpback whales migrating to the tropics to calf.  Imagine coming face to face with an animal the size of 6 elephants!  Dolphin, marlin, sailfish, shark and off course the turtles make up the other creatures of the Big 5 of the marine.
As former president Nelson Mandela declared: "St Lucia Wetland Park (iSimangaliso Wetland Park) must be the only place on the globe where the world's oldest land mammal (the rhinoceros) and the world's biggest terrestrial mammal (the elephant) share an ecosystem with the world's oldest fish (the coelacanth) and the world's biggest marine mammal (the whale)."
The iSimangaliso Wetland Park is South Africa's third largest park, comprising of 328 000 hectares and 280 km of coastline and 3 major lake systems. Lake St Lucia is Africa's largest Estuary, approximately 85 km long.